Flange chain connectors can be used for connecting pipes and/or hoses, fastening of constructional elements and as a mechanical coupling.
Flange chain connectors are suitable for all kinds of products: liquid, gaseous, powdered, granular, pulp etc. They are utilized in a wide range of applications, in many different industries.
HTT Industrial Systems BV offer special versions for severe applications, particularly those where products are being transferred under high loads such as axial moments, radial moments, high torques, vibrations, pulsating pressures or operating temperatures.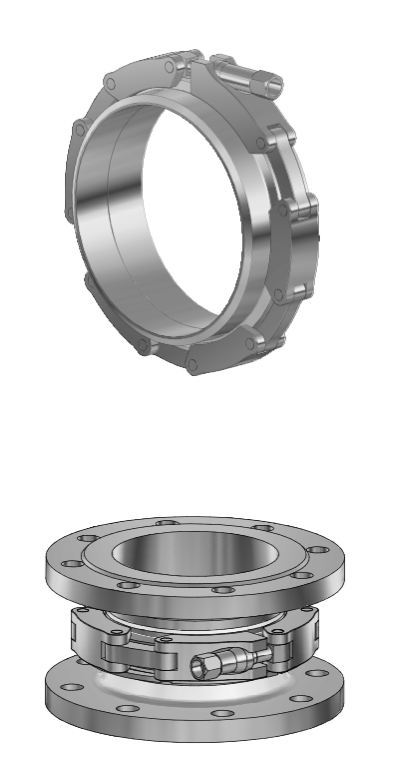 Piping systems

Hydraulic systems

Mechanical engineering

Food industry

Petrochemical & chemical

Steelworks

Paper/pulp industry

Moulding systems

Equipment manufacturing

Cryo technology

Vacuum technology

Bio technology

Process technology

Nuclear technology

Laboratory technology

Fire fighting systems

id.
Sizes : from ¼" up to 40"
Operating pressure : from vacuum up to 900 bar
Operating temperature : from -60°C up to +320°C
Special executions : from -273°C up to +800°C
Seals : PTFE, Viton, EPDM, NBR and other materials to customers specification
Materials : aluminium, stainless steel, carbon steel, synthetic material
Special versions : to customer specification
Short assembling time

Good accessibility

Less space for installation

Low weight

No bolt holes required, eliminating any alignment problems

Easy installation in difficult & restricted areas

No bolts or nuts required

Clamping mechanism, by handwheel (no tools required)

Special safety locking device

Mechanical operation, available for operating in dangerous areas

Opening with remnant pressure is possible

Even clampingforce around the circumference

A full range of metal seals available which are often re-usable (depending on original torque settings.)

Antimagnetic operations available
Examples of flange chain connectors